Neahttadigisánit кодвлӓм лыдмаш программа
Лыдмы пӓлдӹртӹш
Ӱлнӹ якшаргын анжыктымы линкӹм Лыдмы пӓлдӹртӹшвлӓшкет шыпшылын,вӓрӓнгдӓрӹ. Интернетӹштӹшӹ иктӓ-махань текстӹм лыдат гӹнь, иктӓ шамакым ат ынгылы лижӹ, тӹнӓм Лыдмы пӓлдӹртӹшӹштӹ ылшы линкӹм темдӓл. инет-лӹмдер лыдмы текстет сага автоматически шӹндӓлтеш шӹндӓрӓлтеш дӓ лыдмы ӹлӹштӓшетӹн шалахай монгырышты Á меню символ доно анжыкталтеш.
Neahttadigisánit-лӹмдер доно лыдаш…
Иктӓ-махань шамакым анжалнет гӹнь, Alt-клавишӹм ӓль альтернативный Option (⌥)-клавишӹм темдӓл шӹнден, кӹчӓлмӹ шамакетӹм кок гӓнӓ темдӓл. Сервер ти интернет-сайтыш лӓктеш дӓ выртышты шамакын сӓрӹмӹ формыжым анжыкта.
Вес лӹмдерӹм пачнет ӓль лӹмдерӹн йӹлмӹм вашталтынет гӹнь, меню пӓлӹм темдӓл
Installing on a website
It is also possible to install the reader plugin on a website, so that users will have access to dictionaries without the bookmarklet.
To do so, follow our documentation.
Browser support
The reader is supported in the following browsers:
Chrome (version 20 and newer)
Internet Explorer (version 9 and newer)
Firefox (version 18 and newer)
Opera (version 16 and newer)
Самыньвлӓ?
Самыньвлӓм цаклет гӹнь, ӓли иктӓ лыдмы пӓлдӹртӹш кыды-тидӹ ӹлӹштӓшӹштӹ ак функционируйы гӹнь, тидӹ гишӓн информацим, кыды вӓре лӹмдер лӓктӹшӹм пуде, функционируйыде дӓ ӹлӹштӓшӹн URL-адресшӹм пӓлдӹртен, сирен колтен кердӓт.
Тишкӹ конкретный эдем гишӓн информацим ана погы, ма-шон шамак дӓ фразывлӓм переген кодаш манын дӓ нӹнӹ доно лӹмдерӹм виӓнгдӓш манын постаренӓ.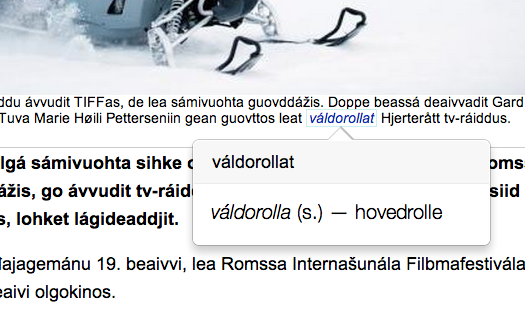 Includes
финн йӹлмӹ → кырык мары
кырык мары → финн йӹлмӹ
кырык мары → алык мары
кырык мары → руш йӹлмӹ
алык мары → кырык мары
алык мары → финн йӹлмӹ
алык мары → руш йӹлмӹ
алык мары → English
If you are looking for other languages, please see our other dictionaries.